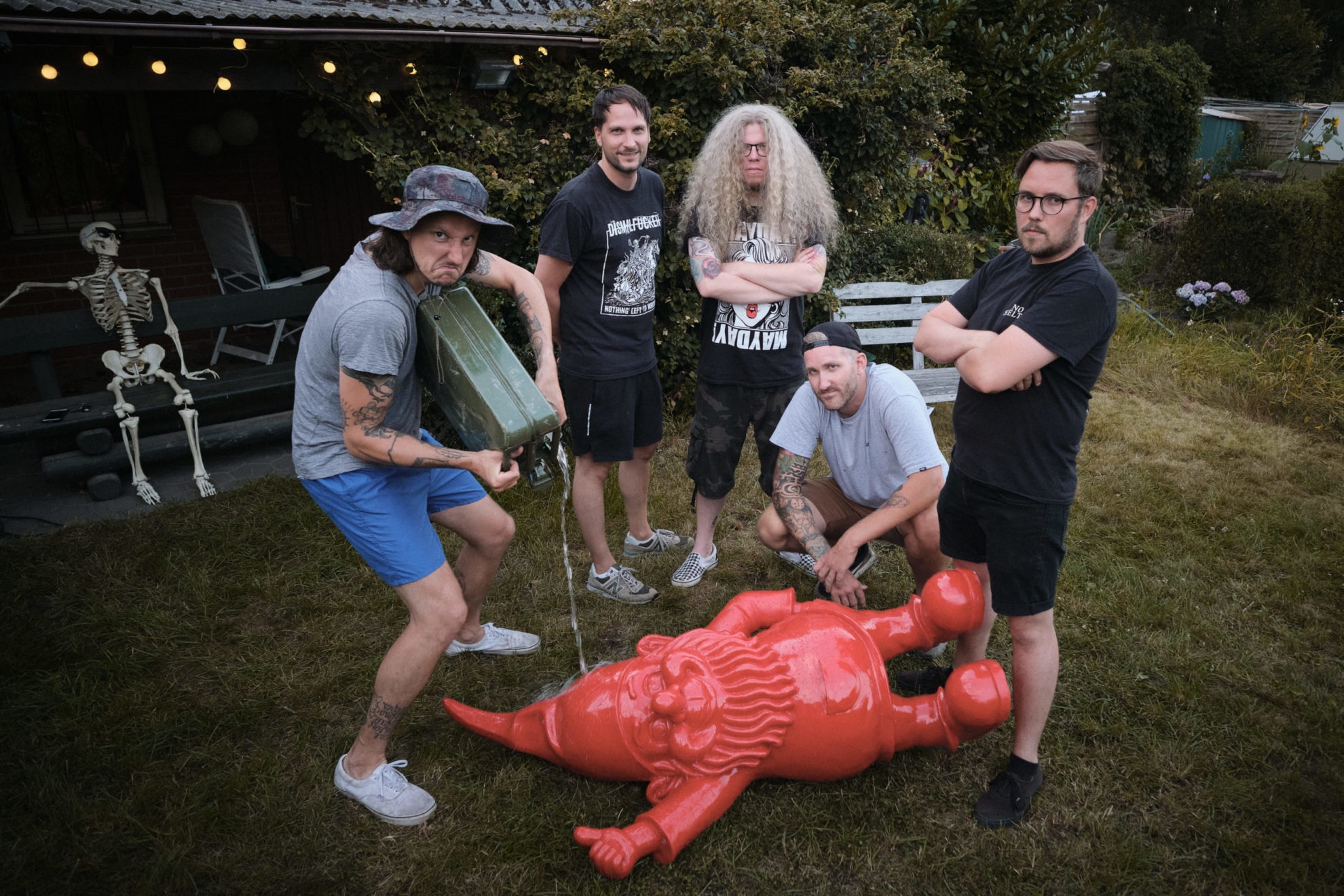 LASERSHARK bereiten das Ende vor!
(short English info below)
In der Dämmerung der schrecklichsten Zeit, die der Menschheit bekannt sein sollte, stiegen LASERSHARK 2017 aus den Abgründen des Münsteraner Abschaums (u. a. mit (ex-)Mitgliedern von IDLE CLASS, GOODBYE FAIRGROUND, SWAN SONGS, GRIM GOAT, NOTIONS) empor, um Songs zu schreiben, die auf ewig in einer unergründlichen Weisheit in die Annalen des Hardcore, Metal, Bossa Nova eingehen sollten. Songs, die auf der Heuchelei von verwandten, musikalischen Vorfahren aufbauen und danach trachten Nazi-Eingeweide zu verschlingen. Mit ihrer selbstbetitelten EP (Santa Diabla, 2018) öffneten sie die Tore der Verwüstung und Verzweiflung, um nun mit ihrem ersten Album "A _____ GUIDE ON HOW TO FUCK THINGS UP" (Midsummer Records, 16. April 2021, Vinyl/digital) nahtlos daran anzuknüpfen.
Mögen sie fortführen was 2020 angefangen hat: Das Ende.
Bereits Anfang 2020 hatten LASERSHARK die zehn Songs ihres Debütalbums nahezu fertig geschrieben und noch vor Beginn der Pandemie wurde für den Sommer 2020 im Sunsetter Studio, Bremen Studiozeit gebucht, um die Tracks aufzunehmen. Aufgrund der allgegenwärtigen Situation ist die Vorproduktion, der Feinschliff der Songs und die Vorbereitung auf die Aufnahmesession dann größtenteils in Heimarbeit alleine von zuhause abgewickelt worden. In einer "lockeren" Phase der Kontakteinschränkungen waren die Aufnahmetage dann relativ normal durchführbar und die einzelnen Bandmitglieder spielten so Stück für Stück ihre Parts im Sunsetter Studio mit Produzent Fabian Schulz ein.
"A ____ Guide On How to Fuck Things Up", das räudige Debütalbum von LASERSHARK, erscheint am 16. April neben der digitalen Variante außerdem in einer streng limitierten Kleinstauflage auf farbigem sowie schwarzem Vinyl.
LASERSHARK sind: Benny (Vocals), Kai (Gitarre), Tobi (Gitarre), Öli (Bass), Heiner (Drums)
Short Info English:
Appearing near the dawn of the worst time known to human mankind, LASERSHARK arose from an abyss of
filth in Münster, Germany in 2017 only to create Songs that will forever be embedded in the shrine of
Hardcore, Metal and Bossa Nova as finalized wisdom and perfection. Songs that feast on the bowels of
Nazi-Scum and the hypocrisy of common musical ancestors. With their self-titled EP (released on Santa
Diabla) in 2018 they opened the gates of devastation only to tie in with their first full length "A _____
GUIDE ON HOW TO FUCK THINGS UP" (released by Midsummer Records) in April of 2021 to continue what
2020 has started: The End.
Tracklist:
01. Refused Are Fuckin' Snitches
02. The Dark Side Of The Doom
03. Defined By Kleingartenverein
04. A Skeleton Walks Into A Bar
05. Brass Knuckle Bossanova (Gucci Gang)
06. We Are The Pestilence
07. The Tenth Decay
08. Honeycombs Full Of Shit
09. Armageddon Jazz
10. Come Out Swimming, Bernd
Facebook: https://www.facebook.com/Lasersharkms
Instagram: https://www.instagram.com/lasersharkms
Bandcamp: https://lasersharkms.bandcamp.com