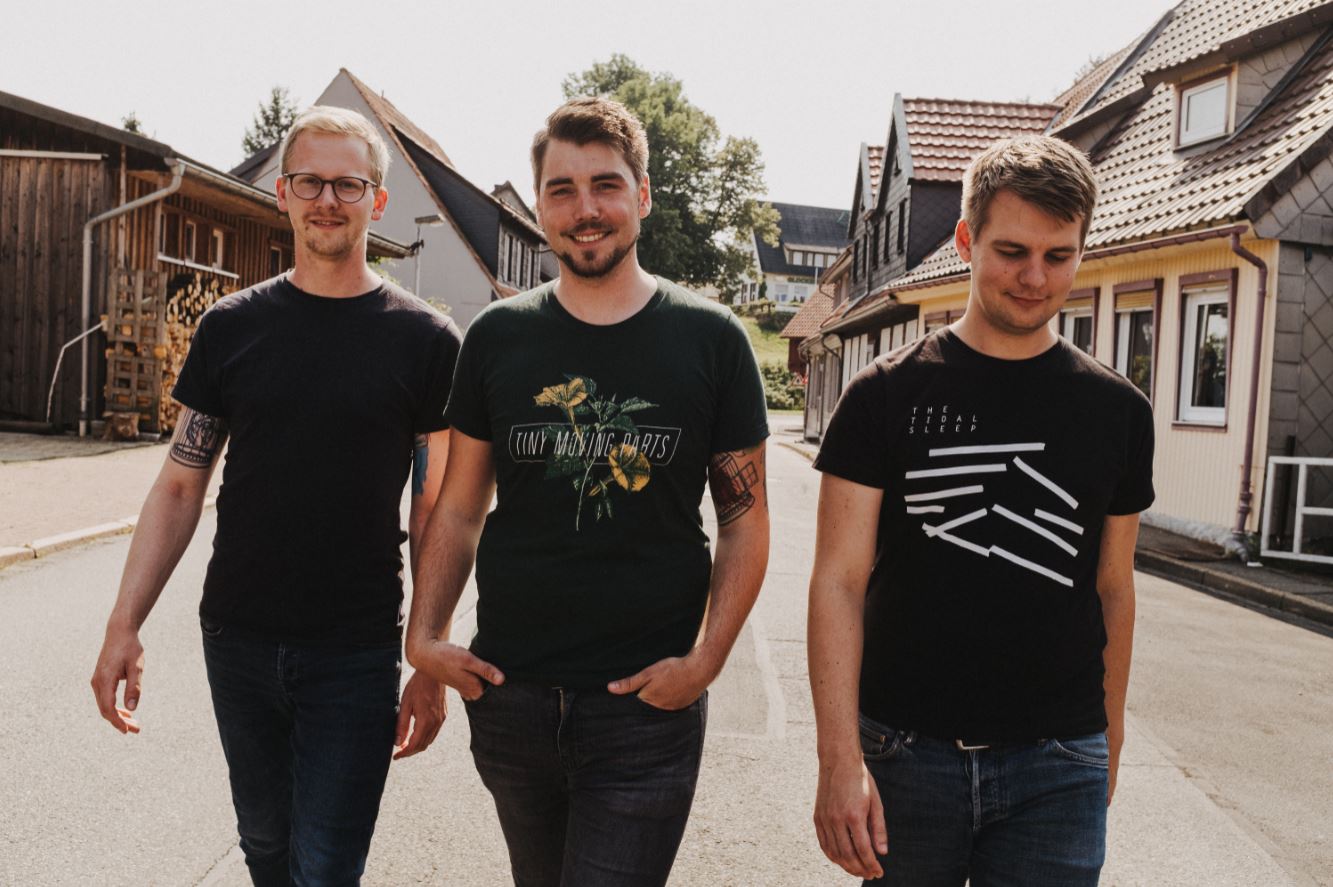 Great Escapes – Neues Album "Okay" kommt im März!
Am 19. März veröffentlichen wir "Okay", das zweite Album der Emo-Punks Great Escapes aus Rheine/Münster!
Genau wie die Vorgänger-EP Shivers and Shipwrecks hat das Trio um Gitarrist und Sänger Frederik Tebbe, Bassist und Co-Sänger Maik Osterhage und Schlagzeuger Maik Pohlmann die zehn neuen Songs mit Bastian Hartmann und Lukas Kroll in den Rad Room Rehearsals in Iserlohn produziert. Die Songs denken den Mix aus Emopunk, Postpunk und Alternative weiter, mit dem Great Escapes auf ihrer EP experimentiert haben. Ein Sound, der klar an Vorbildern wie Samiam, den Get Up Kids oder Jawbreaker geschult ist, den die Band aber auch stets weiterdenkt. Es kracht und rumpelt, es ist melodisch und wütend, funkelt düster und grinst melancholisch. Das wavige Ashes oder das nervöse Autumns and Atoms sind dafür nur zwei Beispiele. Songs wie Spring Fake oder A Daily Death spielen Schein und Sein ganz bewusst gegeneinander aus, verknüpfen optimistisch klingende Melodien mit zweifelnden Zeilen. Are You Okay? schafft als Schlussstück schließlich den selbstbewusstesten und positivsten Song der Platte. Osterhage singt darin die Schlüsselworte im Refrain: "Believe me, it's okay to lose your mind from time to time."
Hilfe bekamen Great Escapes bei der Albumproduktion vor allem von Freunden. City Light Thief-Sänger Benjamin Mirtschin bricht den Spoken-Word-Track You Are Welcome mit seiner unverkennbaren Stimme auf. Niclas Steinkamp von Elm Tree Circle hat passenderweise immer dann im Studio vorbeigeschaut, wenn gerade ein Backing-Chor aufgenommen werden musste. Lukas Kroll und Bastian Hartmann stehen der Band ohnehin schon seit Jahren mit Rat und Tat zur Seite. Ums Artwork haben sich Fotograf Nico Ackermeier und Illustrator Josua Rieber/Homesick Merch gekümmert: Der Erschöpfung, die die Texte des Albums dominiert, setzen Great Escapes Naturfotografien und Portraits entgegen, die die Stimmung der Platte einfangen. Ackermeier hat die Band wiederum im Anschluss für aktuelle Bilder selbst im Harz fotografiert.
Great Escapes sind seit 2014 aktiv. 2015 erschien ihr Debütalbum To My Ruin I'll Go Gladly, 2018 die EP Shivers and Shipwrecks. Seitdem ist die Band quer durchs Land getourt und spielte Konzerte mit Bands wie Matula, Nothington, Idle Class, Adam Angst, Smile and Burn oder Apologies, I Have None. Okay erscheint am 19. März 2021 als 180 Gramm Vinyl in weißer und schwarzer Ausführung und als CD im Digipack bei Midsummer Records.
PREORDER "OKAY" – BITTE HIER KLICKEN!
Great Escapes sind:
Frederik Tebbe (Gesang, Gitarre)
Maik Osterhage (Bass, Gesang)
Maik Pohlmann (Schlagzeug)
Tracklist:
01. Tyler
02. Ashes
03. Spring Fake
04. A Daily Death
05. Retry
06. Hope and Harbour
07. You Are Welcome (ft. Benjamin Mirtschin/City Light Thief)
08. Phobophobie
09. Autumns and Atoms
10. Are You Okay?
FB: https://www.facebook.com/greatescapesband
IG: https://www.instagram.com/greatescapesband/
English info:
Great Escapes – consisting of guitarist and vocalist Frederik Tebbe, bassist and co-vocalist Maik Osterhage and drummer Maik Pohlmann – recorded the ten new tracks together with Bastian Hartmann and Lukas Kroll at Rad Room Rehearsals in Iserlohn, just like their EP Shivers and Shipwrecks from 2018. The songs elaborate on the mix of emo-punk, post-punk and alternative rock, that the band explored on their EP. It's a sound that's clearly educated by idols like Samiam, The Get Up Kids or Jawbreaker, but the band keeps on developing it. It's loud and noisy, melodic and angry, dark and shiny and grinning melancholically. A wavy song like Ashes or the nervous Autumns and Atoms are just two examples. Songs like Spring Fake or A Daily Death play off appearance against reality and connect optimistically sounding melodies with doubting lyrics. The closing track Are You Okay? marks the most positive song of the record. The chorus, sung by Osterhage, says: "Believe me, it's okay to lose your mind from time to time."  
Great Escapes did that with a little help from their friends. City Light Thief-singer Benjamin Mirtschin provided guest vocals for You Are Welcome, Niclas Steinkamp of Elm Tree Circle was there when Great Escapes were in need of some backing vocals. Lukas Kroll and Bastian Hartmann are on hand with help and service for the band for years. The artwork builds on photography by Nico Ackermeier and is designed by Jousa Rieber/Homesick Merch: Nature photography and portrait shots reflect the overall feeling of the record.  
Great Escapes are active since 2014. They released their debut album To My Ruin I'll Go Gladly in 2015, the EP Shivers and Shipwrecks came out in 2018. The band toured across Germany and played shows with bands like Nothington, Idle Class or Apologies, I Have None. Okay will be released on March 19th 2021 via Midsummer Records.